Kym AFFORD
Three is too Many, Welded steel and net.
I am deeply concerned at the way we are plundering the earth, a finite resource, as if there is no tomorrow. We face ultimate collapse without immediate changes to our lifestyles . $3,000
Donna BRINK-REID
Eagle Eyrie
​
Sticks, bark, cotton.
'Waiting for Nourishment' This sculpture of bark, sticks and cotton symbolizes the cycle for life on Earth
NEW LIFE + DEVOTION + NOURISHMENT + SURVIVAL + DEATH
Or is it EAT AND BE EATEN
Penny CHOATE
Shakey Ladders
​
Mixed media, wood, rope, plastic, wire, bamboo. N.F.S.
For various reasons these ladders should be climbed upon with caution.
Paul CULLEN
These Hands
​
Sheet aluminium, concrete, paper P.O.A
These hands were given trust.
These hands crush our earth.
These hands consume with unquenchable thirst.
These hands are yours.
Karen GENOFF
Another Strange Country
​
Old fence palings from my childhood home, 170 cm high. $4,000
Ian HAMILTON
Out of the Forest Come...
​
Eucalyptus branches, wire, paper-mache, sawdust, oil
"Art happens the way a bird flies, or sings, or makes a nest" Milton Moon
John HAYWARD
Ceremony
​
Wood, TV remotes, and collected materials. $190 each item
This work pays homage to human nature through the nightly ceremony of the TV remote ritual.
Kon HEYER
Radial
​
Metal and Jarrah, $3,500
This sculpture evolved from a discarded silo stand. The strands or rays branching out from its core, symbolise what can commonly be observed in nature.
Margie HOOPER
Totem Shrouds
​
Acrylic, wool, angora, home spun wood from pet sheep, woven cotton and quilted elastin; wooden sticks. 1.8 x 10 metres
What is friendship? It is a group of dedicated women who gather together to knit, spin, weave and quilt cheerful shrouds for the environment. No trees were harmed during this project.
Greg JOHNS
Seaing The Land - Feeling The Land [Shedding Figure]
​
from a series derived from a felt, symbolic and observed reading of the Australian landscape.
David KERR
Homage
​
An assemblage of cafeteria chairs, POA
This work explores the notion of all life as a continual assemblage and reassemblage of stuff. Stacking is the specific feature of this piece, Homage. The homage being made is to one of Heysen's candlebark gums, a magnificent assemblage of matter in the far corner of the Cedars property.
Gerry KING
Uncertain Memories
​
Glass and building materials, $12,000
The present is not necessarily sound evidence of that which was. A given landscape view may mask rather than reveal what previously stood on that hill or beside this creek.
Pamela KOUWENHOVEN
Stomp
​
Rusted metal drums, 5m x 3m x 1m high
Squashed and rusted drums, once containing herbicide for weed control, return slowly back to earth.
Max LYLE
Eco-Gate
​
Bamboo and Robina wood from the Heysen property. 4.6 metres high, other dimensions variable. $3,500
The "split gate" of Balinese origin is used to refer to the divisive nature for humanity when facing the seemingly increased ecological problems evident ina changing world.
Gavin MALONE
I yield, unless
​
River Redgum, Eucalyptus camaldulensis, acrylic, banknotes. 85 x 35 x 35cm $1,320
Yield
1. to give forth or produce by a natural process
2. to give a return
3. to give up or surrender
4. to give way to influence, or the like
Andrea NUM GLOVER
Twilight - Please enter via the exit
​
Canvas tent and mixed media: metal, plastic, permanent pen, wood, chair and light. POA
"It is here, in Shangri-la, where destinies will be discovered and the meaning of paradise unveiled"
Shangri-la - the poetic name for 'exit' - as stars go out one by one - ping!
Andrew PARISH
Life Sentence
​
Salvaged steel objects. Price by negotiation
'My work comments on the arrival of European settlers and there influence upon the indigenous lands.'
Will POWRIE
Photon Trapper
​
Mixed metals, glass. $2,200
During the making process the intercellular world of plants came to mind. A domain populated by floating organelles absorbing light photons and transforming them into chemical gold, the building blocks of life.
Colin ROGERS
Kookaclock
​
Timber, $1,400
Continuing destruction of habitat means that time is running out for Australian native birdlife. Combining an iconic Australian bird with an iconic timepiece was fairly obvious.
Ron ROWE
Ant Nest
​
Red gum timber, clay and marble chips. 3 metres diameter x 1.5 high. SOLD, in the collection of the Heysen Estate Sculpture Park
Ron ROWE
Ant Nest 2
​
Timber, clay and marble chips. 3 metres diameter x 40cm high. 2010
'Ant Nests' are new installations that has been ongoing since the early 90's, in a variety of media about anthills
This is a homage to the many thousands of anthills that reside in the northern half of Australia.
Peter SYNDICAS
Four Mile Beach
​
Origin of twig, Port Douglas QLD. Bronze cast $6,410
​Peter Syndicas is obsessed with fractals - infinite patterns replicated throughout all forms of nature. From cracks in the earth, to human arteries and the palms of our hands. He sculpts the forms found in twigs primarily as it enables him to view these fractals from the widest perspective. Defining abstract human forms within his twigs he enables the viewer to observe them from a different perspective. He then magnifies these forms, and immortalises them in bronze. A stark contrasts to the fragile nature of these delicate twigs, some no larger that a few centimetres in length.
Westley TULLY
Survivors
​
Savaged and discarded materials. N.F.S.
'Survivors' is an ode to all those who have survived adversity.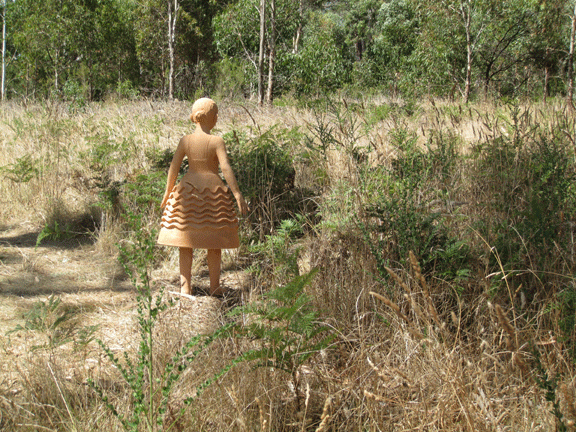 Liz WILLIAMS
Taking the Air
​
Clay, $8,000
I am curious to see my work in the natural environment
John WOOD
Flow
​
Bronze - patinated, painted, plated $7,500
The sculpture refers to growth and energy, the flow of water or life force through landscape in a vertical motif reminiscent of the growth pattern of vegetation.
Trevor WREN
Chime
​
Sand cast aluminium, $300 each
High in the hills a group of Cocos Palm pods dangle amongst the Hawthorne bushes waiting for the summer breeze so they can signal their relatives on the Adelaide plains.
Trevor WREN
Rhythm
​
Plastic irrigation pipe, 5m diameter. POA
Art, A proper relation and interdependence of parts with reference to one another and to an artistic whole.